07 Apr

Community Food Program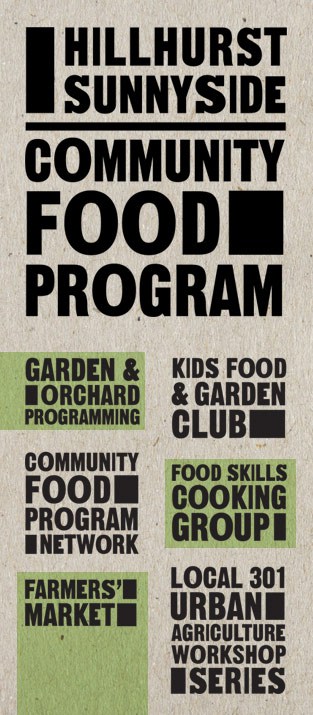 We think it's safe to say that Calgary has been experiencing a revival in all things local food for some time now. As one of two winners of our annual Grow Your Good initiative, the Hillhurst Sunnyside Community Association's Community Food Program is central to this movement, offering plenty in the way of food clubs, markets, networks and programming.
Our challenge in taking on their project was to come up with a brand to encompass several offerings under the one overarching program, and a marketing piece that would explain each one. All within the budget or our $1,000 award.
Years ago, when food and community were an integral way of life, type was set using wood blocks, and sometimes printed marks were made of a mixture of typefaces (missing letters in a font set meant substituting with letters from another one). Our solution was to create a one-colour wordmark for each program, each using that same typographic style. The all-black scheme makes this easily reproducible on a budget and works with whatever imagery will be used.
Kate Stenson of the Community Association told us: "The Grow Your Good Award offers a great opportunity to non-profits to receive high-quality design work that may otherwise be inaccessible to them. It is great to see a company like GOOD Co that uses solid values in selecting who they work with and we feel very lucky to have been chosen for the Grow Your Good Award. Our new brochure will help us in telling the story of what we do in the Community Food Program."