05 Aug

Website Overhaul: From static to dynamic for Calgary Arts Development

This is easily the most robust, functional and dynamic website we've built to-date.

As the city's designated arts development authority, Calgary Arts Development does much for artists, art organizations and Calgarians overall. Collecting data and reporting, providing grants and connecting artists with spaces or the public are just some of the many projects they spearhead. They serve as an invaluable resource for both the arts practitioners as well as those who simply wish to experience the arts in Calgary.

There was one problem; their website wasn't able to put all of this front and centre. It was also beginning to feel dated in appearance and the way it functioned.

We worked closely with the team at Calgary Arts Development to change the way their website functions and presents information. The idea was to create a site that would be equally useful to a viewer (perhaps wondering about current art events in the city) or participant (an artist sharing a story about his or her experience). It needed to become a fluid, interactive, accessible hub of information – easily shaped and kept up-to-date by content managers. And instead of focusing on explaining the "who" of the organization, the focus was placed on the "what" and the many types of content that needed to be displayed and behave in meaningful ways.

This required the development of a highly customized content management system. Here's a look at a section: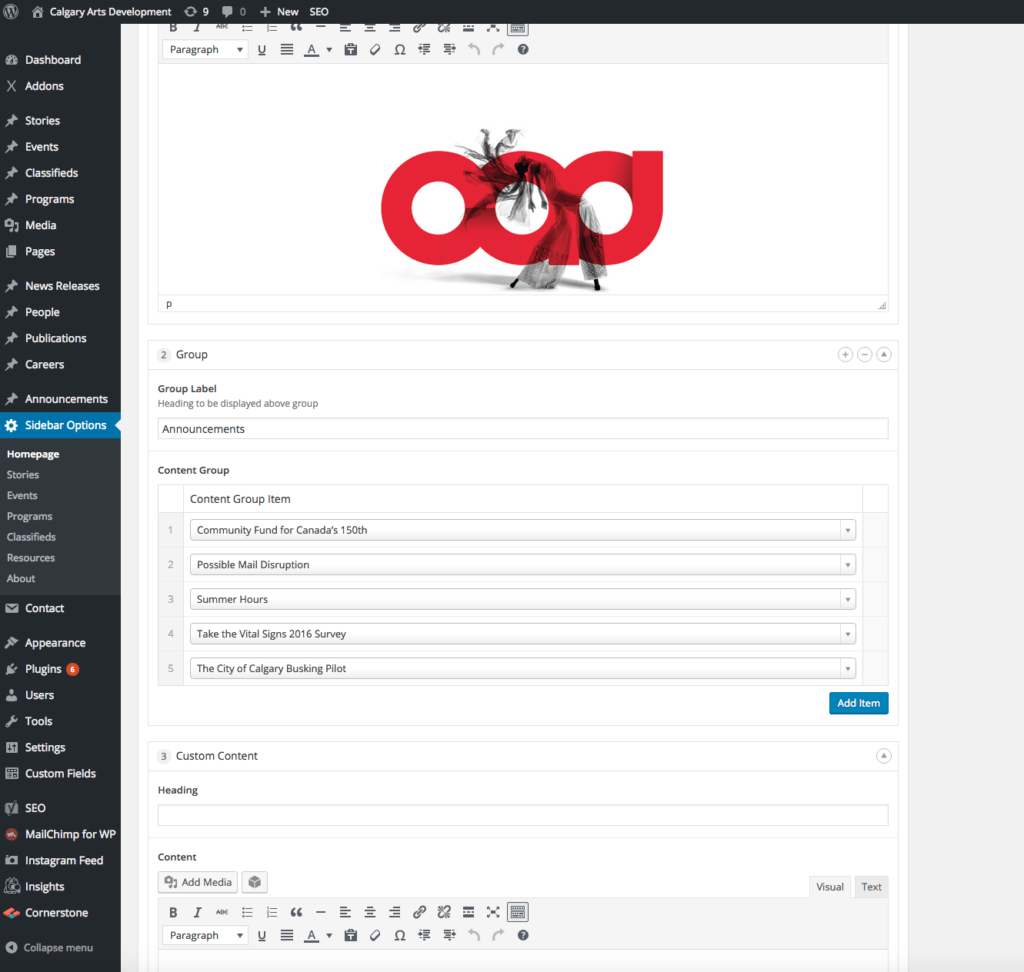 There's a lot of organizational logic embedded that CAD simply doesn't have to worry about. For example, layout and formatting is handled automatically when content is entered, and the editor has the appropriate fields available for each content type. When a price for an event and a link for tickets are entered, buttons on the event pages appear – appropriately and consistently formatted throughout the site. Content managers just need to enter their content into intuitively built fields – everything else is automated away.
A look at the home page of the finished site:

Of course, the finished site is responsive so that it is easily viewed on mobile devices as desktop computers.