22 Nov

Working together – our process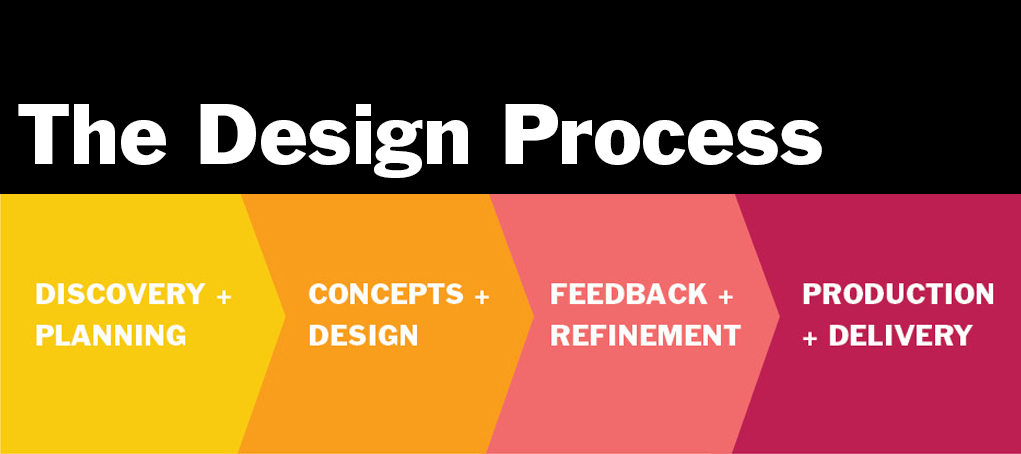 Recently, we spoke to a group of social purpose start-ups about what the experience of working with a creative agency would be like. In doing so, we emphasized the design process and outlined the roles of both the agency and the client within it. If you've not yet worked with us and have been wondering about the process yourself, please—read on!
Discovery + Planning
---
Our role
• Learn about your services, audience, and competition.
• Gain an understanding of what you feel your needs are (ie: "I need people to understand what I do"), but also help you define what you need.
• Give you an estimate for the work, clearly outlining what is included.
What can you do?
Share. This is the time to express your hopes and dreams for your business or the particular project. The more an agency knows upfront, the more they can be accurate with a cost estimate and come up with an appropriate solution to your problem.
Provide the agency with:
• market research and information about your ideal clientele
• marketing materials already created­—and be prepared to discuss what you feel is and is not working with them.
• text, photos, logos, illustrations, graphs, etc.
• your budget, if you have one in mind.
• existing brand guidelines
Concepts + Design
---
Our role
• Put together criteria to work from, and often, a creative brief.
• Generate ideas and designs, then present proposals and explain their thinking and how they see the designs meeting your needs.
What can you do?
Think about it. Consider how the creative is meeting the project goals. You may realize that you forgot to communicate something to the agency, or something didn't come across as expected. Talk to the designers and ask questions. Note your gut feeling and then — what you thought after sitting with the creative a few days. Acknowledge your personal taste but surrender to your customers'.
Feedback + Refinement
---
Our role
• Listen to your feedback and incorporate it into the creative, discussing options as needed.
• Begin focusing in on the details and tightening up the design to your satisfaction.
What can you do?
Communicate. A phone call or meeting may be the best way for you to share overarching feedback, but emailing consolidated feedback gives something "on paper" for everyone to refer back to as needed, and ensures no miscommunication. What if something new comes up? If you realize you have new ideas or change your mind on designs that you previously approved, the agency will discuss whether the reworks will be done at extra cost or if it will be included in the original agreement. And, if something isn't sitting right with you, try to explain why you think that is, even if you find it hard to put into words! Finally, if you need to supply the agency with final text or photos, now is the time.
Production + Delivery
---
Our role
We can oversee the production, programming, or printing, as required for your specific project. We can also help you with the transition from working with us to taking on maintenance or updates of materials yourself.
What can you do?
If there is printing, you would provide details about quantities you want printed, the shipping and distribution info.